This must be how I spend most of my days. Monkey see...monkey do, right?




I second shot at four weddings before going solo.

I booked my first wedding for $1950.

Yesterday's wedding made number 23 for me on my "complete weddings shot" list.

My 2010 wedding packages will all include complete coverage. I hate leaving weddings early, but I also hate getting short changed. SO I'm hopefully making it easier on all of us.

I'm going to be famous one day. Okay, probably not. But I love when my clients think so. Since I haven't updated my "testimonial" section of my website (or my website as a whole) in about forever, I thought it'd be fun to share a few excerpts from recent emails.

"You're great! Thank you. You should be more famous than you already are. Don't forget about us when this happens and you're making millions of dollars a year. We're excited to "hang out" again!"

(I love that these two view our sessions as "hang outs" because that's exactly how they feel to me too!)

"I continue to be blown away by your photos. They are truly fabulous. I wanted to tell you yet again what kind of a reaction I am getting from everyone who looks at your shots. Believe me, I am showing them to very sophisticated and creative people who think they have seen it all...and they gasp when they look at the wedding thru your eyes. I know when you're in business for yourself sometimes it feels like you only hear the complaints. So I thought I'd give you a virtual pat on the back once again. I hope we meet again at some sort of shoot...maybe baby portraits?"

(You guessed it, this one came from a wedding mom. This is the second "virtual" pat she's sent me and I really do appreciate it. It is really easy to get down on yourself and to compare yourself to others and their seemingly wonderful abilities/lives.)

"They are AMAZING!!!!! I LOVE THEM!!! However.. my dress sucks!!"

(We're re-shooting this bridal session. I want my clients to be absolutely smitten with their images, so even if it's not an error on my part, we'll re-shoot if that's what it takes.)

"The photos look fantastic on your blog! We are super happy with them. Thank you. We think that all people who get married should have you as their photographer."

(Me too. Well, not really. The truth is, just like there's a perfect groom for every bride, there's also a perfect photographer. It's important to make sure, especially where weddings are concerned, that you love your photographer's personality. You want to be natural in front of the camera and the only way to do that is if you feel like you're in the presence of a friend. I know I mentioned this recently, but it's so important I wanted to repeat it.)

The truth is, my awesome clients make it pretty hard for me not to love my job. They make me feel like a rockstar. My husband makes me feel like a rockstar too. I couldn't do what I love without his support and that's so important. Ella shares her apple peels with me, so... I'm working on rockstar status with her. But until then, I just wanted to publicly thank all of my well-wishers who give me the confidence to do what I love.

To finish this truthful post, I had to share this image my sister captured during our family session. She took a bunch of me by myself to use on my website, but in review, I felt like this was the image that really speaks of who I am. Even professionally, I can't be seperated from my family.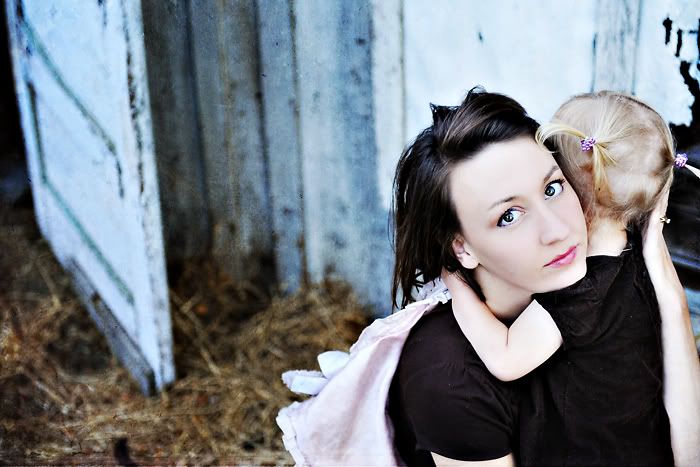 I am a mother and always will be. As my family grows and changes, so will my business. But that's the beauty of it. It's MY business. So for today, this is where I'm at. I'll be spending the weekend with family, and then will have much to share next week with three sessions to come. Wedding #24 is up to bat in a few weeks with Jordan & Nate. And sometime in the mix of these weeks I need to find Ella a halloween costume + sew myself some more fleece pants.

The truth is we're to cheap to pay for much heat and our house is FREEZING!